Launched in November 2019, the development in Pakenham is a joint initiative between the Peter & Lyndy White Foundation, Cardinia Shire Council, Sienna Homes, Wayss and Windermere.  Wayss and Windermere partner to provide operational oversight of the project, including the delivery of project outcomes.  Onsite support to the resident women and children is provided through Wayss family violence services and clients have a dedicated Wayss Property Services team member managing the property and rental agreements. Windemere deliver child and family services on site to residents.
Although the homes are part of a single facility, they have been purposefully designed to blend into the local surrounds and are indistinguishable from other housing in the area.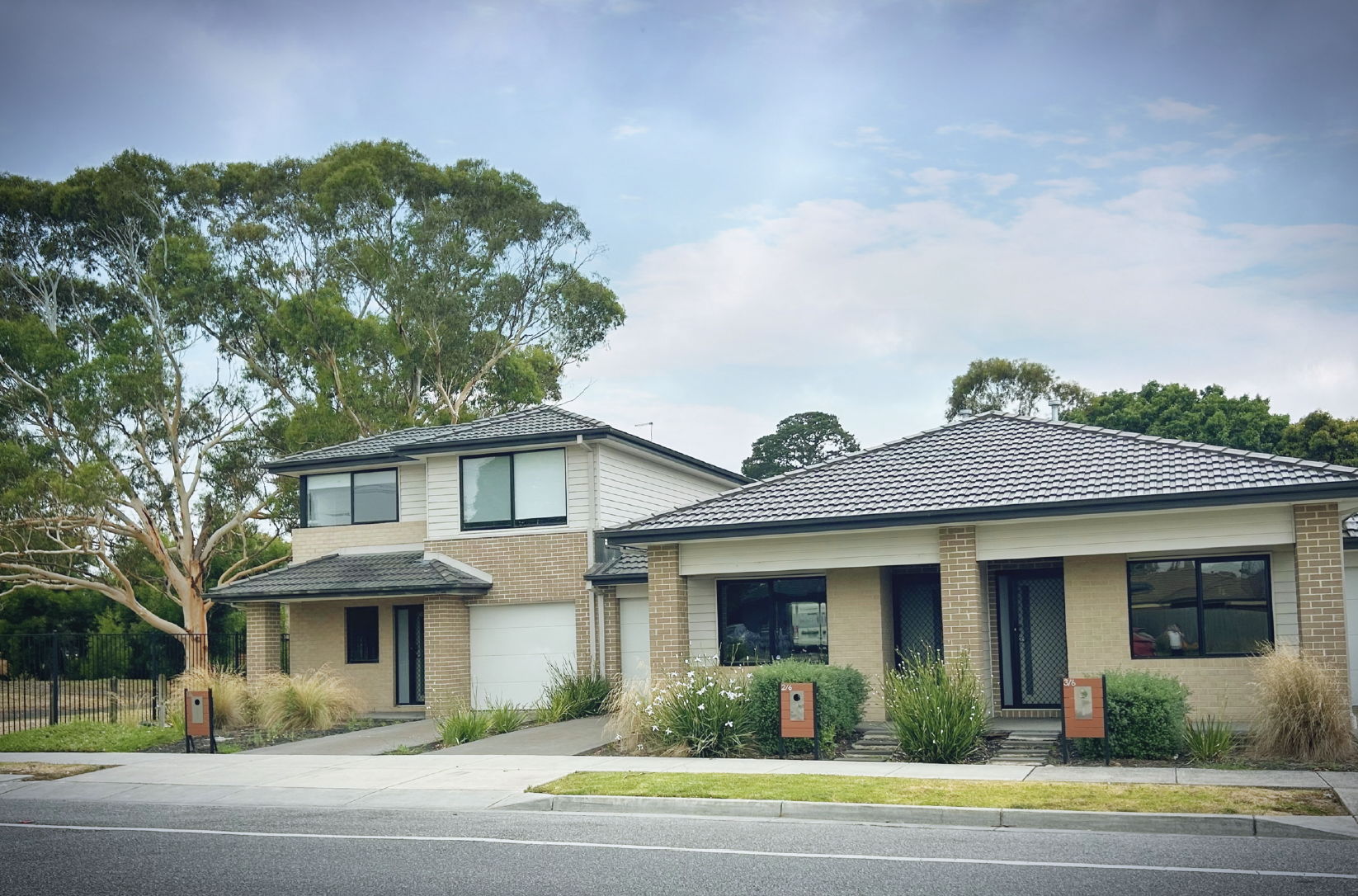 The facility provides up to two years of housing for women and accompanying children at risk of homelessness due to family violence and who need stable housing to enable recovery. It provides the families who live there with the stability and support they need to flourish and move on to live independently of support services.
There are ten homes in this purpose built complex of 2, 3 or 4 bedrooms, with access to a large communal outdoor family space, green play space and BBQ area.  Two workers are based at a small onsite office to enable easy access to family violence and child and family support and there is space for small group activities and counselling services
Throughout the residents' tenancy, support is provided in the areas of:
positive parenting
community engagement
participation in education
training and employment
life skills development.
During their stay residents are provided with support to plan, access and maintain permanent housing.
 Overarching Frameworks
This development is informed by the guiding principle of Housing First – that safe and secure housing should be quickly provided prior to, and not conditional upon, addressing other health and well-being issues. The Main Street project adapts this approach to a family violence context.
A longer term, safe place to live provides the stability needed to avert homelessness and disrupt prolonged family violence crisis experienced by many women and children so that they can be supported in their recovery journey and live a life free from violence.
Objectives
Safe and stable housing for women and children who were at risk of homelessness due to family violence
Support for and empowerment of families to live independently and free from violence
Development of tenancy skills that will enable women and their families to successfully enter the private rental market
Facilitating connection with support services, community, family and friends that can assist the journey to recovery from family violence.
The power of partnership
The power of partnership is key to the success of the Main Street project, an initiative that we believe is creating exciting new pathways for similar ventures to follow. The project has become a leading example of philanthropy, business, community organisations and local council working together to deliver resources that yield tangible results for vulnerable community members.
The development has forged a new path in creating fit for purpose housing solutions that do not rely solely on government funding.
Outcomes
28 women/family groups have stayed at the property since opening the facility
20 women/family groups have exited, with eight remaining living at the property
Average stay is 11 – 12 months. The range in lengths of stay is from 2 – 3 months (these women have exited to return to perpetrator) to 3 years for the longest stay.
Women and their families have achieved the following:
50% have moved to rent privately
30% have moved to community housing
10% have moved in with family (where the perpetrator is not present)
10% have returned to live with perpetrator. 
Case Study 1
Mother and her 8-year-old son
Fled family home with only a bag of clothes
Housed in a fully furnished 2-bedroom unit at the property
Mother completed her University Studies (her husband was not supportive of her studies and would not allow her to complete her placement)
Mother gained part-time employment in the Aged Care field
Mother and son were linked into ongoing family violence counselling
Community including in Pakenham – son attended school in Pakenham, became class captain. Son made friends and linked into local dance classes.
Mother was supported with budgeting tools and was able to save money to purchase household furniture and moved out into private rental after 13 months.
Was able to live safe and free from family violence and was successful in getting legally divorced.
Case Study 2
Mother and her 5-year-old son moved into the property 8 months ago. Mother was 5 months pregnant when they moved in.
Fled family home with only a couple of bags of clothing, was living in a motel for a month before moving into the property
Family is housed in a fully furnished 2-bedroom unit at the property
Family had no family or friends in Australia (from the Philippines)
Son started at new school in Pakenham; has flourished, made friends, attending school holiday programs. Linked into Swimming Lessons via Cardinia Life (free membership).
Mother has made positive friendships and support networks within the community
Mother linked into ongoing family violence counselling
Intense supports for the family during her pregnancy and birth of her daughter (currently 3 months old).
Family living safe and free from family violence; provided with intense ongoing family violence supports
Family has already saved $5000 with her goal to get her driver's license and purchase a car before moving into private rental.
Some further highlights
Once settled at a home in the property, most of the children are linked into schools or childcare in Pakenham.
One of the children was elected by his peers to be School Vice Captain. This is such a great achievement after only being at the school for a very short period.
Another child has been awarded student of the week within the first 5 weeks of the new school year.
Stable, affordable and safe housing has allowed women residing at the facility to resume work or pursue study that will enable them to find a job and boost their income, which all contribute to their journey of recovery from family violence.  The Wayss worker on site actively encourages and supports resident women to pursue these opportunities as part of their family violence case plan.
One client enrolled in a Certificate 3 in hairdressing; she is focused on her future and has settled her children well into one of the local Pakenham schools.
One client undertook a work placement in Aged Care and was then offered a permanent position. This was a great achievement, this client furthered her education and gained employment, providing her an opportunity to work in the suburb where she now lives.
With the prospect of stable housing for two years, another client was able to return to part-time work.
Another two clients took steps to further their education and qualifications through TAFE with the aim of finding work.