Since 2019 we have been building a strong partnership with Beyond Housing who provide housing and support services to people suffering the devastating impacts of housing insecurity. We provide 90% of the funding for the projects and Beyond Housing contributes 10%. We look forward to further collaboration with Beyond Housing and expect to deliver approximately 50 houses per annum with the team at Beyond Housing. We continue to deliver housing to those in need, even during this difficult economic climate – a credit to Beyond Housing and their team.
The Foundation increased our funding commitment to $15M and approved construction of 49 homes to house 77 individuals in regional Victoria.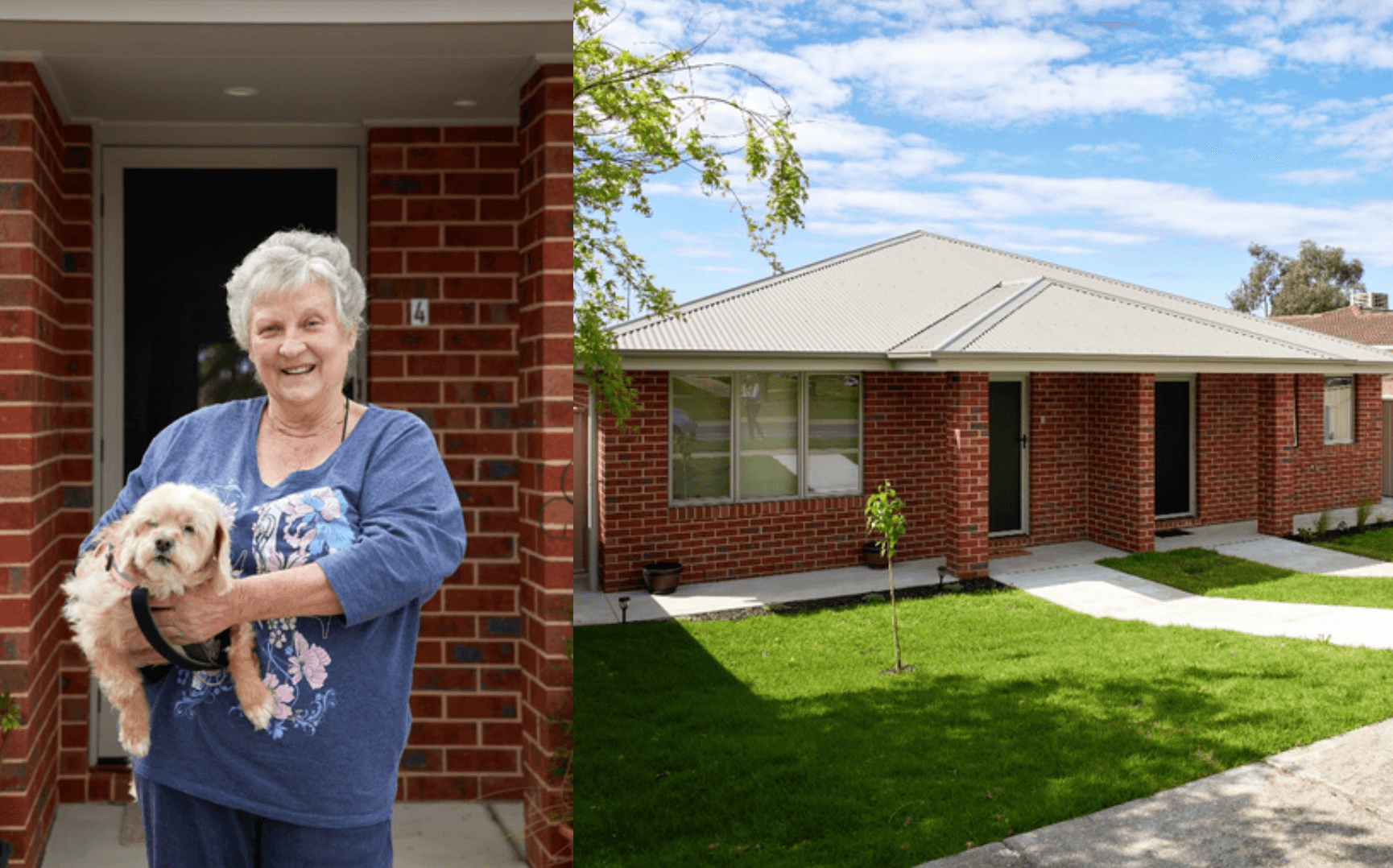 We have commenced building
49 houses for 77 individuals
Erin's* story
Erin is a 50 year old single parent, with a teenage son. Erin was on the priority waitlist as a victim survivor of family violence. Erin and her son had been couch surfing whilst waiting for a home. She is currently employed at a supermarket, and her son is completing studies through TAFE.
"This house took my breath away, I was shaking with relief but also joy when she [the BeyondHousing property manager] said it was ours. I'm so grateful to have a stable home for us both, I really can't put into words how this home will change the course of our lives."
Jessica & Nathan's story
Jessica (40) and Nathan (46) had received intensive support from BeyondHousing's Initial Assessment and Planning team to break their cycle of homelessness. They were on the priority waitlist and had been camping on the river for 5 years, whilst attempting to hold down employment. When health issues saw them unable to fully recover due to their living arrangements, impacting their ability to work, they determined they were ready for long-term housing.
"I was totally blown away by this place, especially the big shower. It's a big change, paying rent and living with in town neighbours and stuff, but we're gonna give it everything to make it our home for a long long time."
Joy's story
72 year old Joy didn't think she should receive our support, despite renting a very old property that was unfit for purpose, and unaffordable on her low income. Joy was supported to make an application to the VHR priority list. She was undertaking a 1.5hr round trip several times a week for medical appointments and struggled to pay for petrol alongside medical costs and rent. Her new home is close to medical and other services.
"I still don't think I deserve this home more than anyone else, but I cant say thank you enough for it. It has given me quality of life back and peace of mind. We've made a close knit little community who look out for each other."
Stories are shared with permission from clients/renters and BeyondHousing.
*Names have been changed to protect the privacy and safety of individuals